A playful and accessible guide to fermenting at home
James Read is on a mission to smuggle bacteria into our kitchens. In Of Cabbages & Kimchi, he takes the ten greatest 'living' ferments – fermented foods that are neither cooked nor pasteurized – and places them under the microscope, before cooking with them in all their delicious versatility.
From the fiery funk of kimchi to the velvet tang of kefir, James describes the microbial process, then shares his recipes for recreating these wonders in your own kitchen. Alongside his recipes, James investigates the extraordinary cultural and historic backgrounds of fermented foods, exploring how the microbes that bring them to life have developed alongside our culinary evolution.
Featuring over fifty recipes – including Mushroom and Sauerkraut Pierogi, Chilled Radish Noodle Soup and Green Chilli Fermented Salsa – and packed to the brim with Marija Tiurina's gastro-surrealist watercolour illustrations, Of Cabbages and Kimchi will help you create, understand and appreciate fermentation's bubbling magic.
Order today on Bookshop.org or Waterstones or Amazon
Reviews
A fantastically thorough introductory guide to the wild wonderland of fermentation. Through his own journey with kimchi, and then literally everything else, James Read captures the unbridled joy of discovery, a joy that he contagiously passes on with scores of fun, feasible recipes, while Marija Tiurina's accompanying illustrations bring this magical microbial world to life with imagery that would make Lewis Carroll proud. I give Of Cabbages & Kimchi '5 out of 5 crockpots'.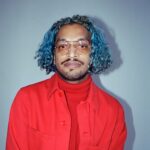 David Zilber
Author of The Noma Guide to Fermentation
A fizzing global tour of the magic and mysteries of fermentation, from sauerkraut to yoghurt, soy sauce to kombucha. Packed with cultural, historical and scientific insights, James Read's debut book is both a fascinating read and a practical kitchen guide. I am clearly going to have to start making my own soy sauce!
Fuschia Dunlop
Author of The Food of Sichuan
From the first fizzing kimchi burp in the opening paragraph I knew I was in for a gripping and fascinating read. Of Cabbages & Kimchi is an enthralling invitation into a world where true satisfaction lies in the bubbles of life that come with fermentation. This is a book that has it all, from the rich stories and history behind fermentation, as well as clear techniques, and a collection of delectable recipes – it's a gift to anyone who wants to dive into fermentation.
Lara Lee
Author of Coconut & Sambal
There are already several excellent books about fermentation, but Read brings a freshness to the subject, which gave me an itch to do more of it. The real test of a recipe book is not what it tells you but how it affects your life in the kitchen and, judging by the clutter of glass jars accumulating in my fridge, this one is a hit.
Bee Wilson
Writing for The Financial Times